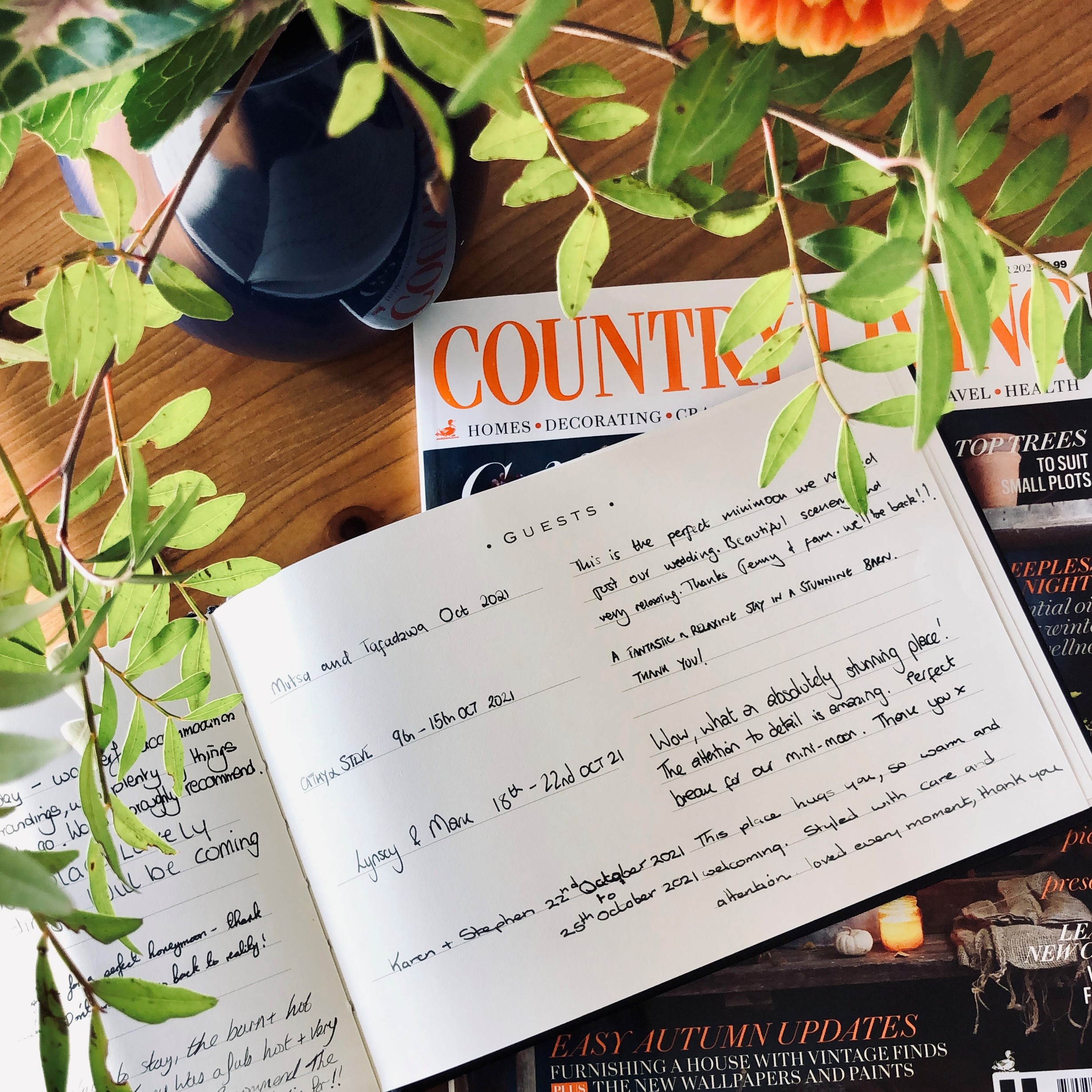 "Second time visiting our favourite getaway spot! Many thanks for a lovely stay."
Caitlin and James, November 2021
"The perfect long weekend away to escape from life. Made even better by the thoughtfulness of the hosts."
Lewis and Freya, November 2021
"This place hugs you, so warm and welcoming. Styled with care and attention. Loved every moment, thank you."
Karen and Stephen, October 2021
"Wow, what an absolutely stunning place! The attention to detail is amazing. Perfect break for our mini-moon. Thank you."
Lynsey and Mark, October 2021
"Second time around and the place still manages to surprise you! Once again the barn was the ultimate getaway for a nice and relaxing break away. Again thank you for your hospitality and for having us back! As before, we will be coming back."
Alastair and Alex, October 2021
"Fantastic place to stay, the barn and hot tub are fab! Jenny was a fab host and very helpful. We will be back. Recommend The Plough for tea. Steak and Ale pie to die for."
Mary and Tom, October 2021
"Superb holiday, wonderful accommodation in lovely surroundings, with plenty of things to do and places to go. Would thoroughly recommend."
Phil and Judith, September 2021
"Beautiful place for a perfect honeymoon, thank you so much! Don't want to go back to reality."
Helen and Joe, September 2021
"Lovely barn, had everything we needed, very welcoming. Will recommend to friends. Thanks for a lovely stay for our 30th wedding anniversary."
Dawn and Will, September 2021
"What a beautiful place! We have loved our stay, perfect in every way, thank you."
Dan and Nicola, August 2021
"Superb in every way! Thank you to David and Margaret for looking after us. We're coming back next year!"
Kathryn and Sue, November 2021
"What a lovely looked after place, we've had an amazing weekend, would definately recommend. Thank you."
Beth and Ben, July 2021
"We had the most amazing, relaxing stay at your beautiful cottage. You really have thought of everything and made it so special for us. We don't want to leave. Thank you so much."
Danny and Sarah, July 2021
"Such an amazing and relaxing stay, just what we needed! Accommodation is lovely and so thoughtfully put together, would love to come back again."
Beth and Jason, July 2021
"We really can't thank you all enough for making our stay here so perfect. By far the best we've ever stayed in (and we've been to some nice places!). The whole family were so welcoming, really made it extra special. Thank you."
Mike and Michelle, June 2021
"The perfect place to celebrate our 7th wedding anniversary. We loved our stay here, thank you for being lovely hosts! The little touches make it."
Cara and Tim, June 2021