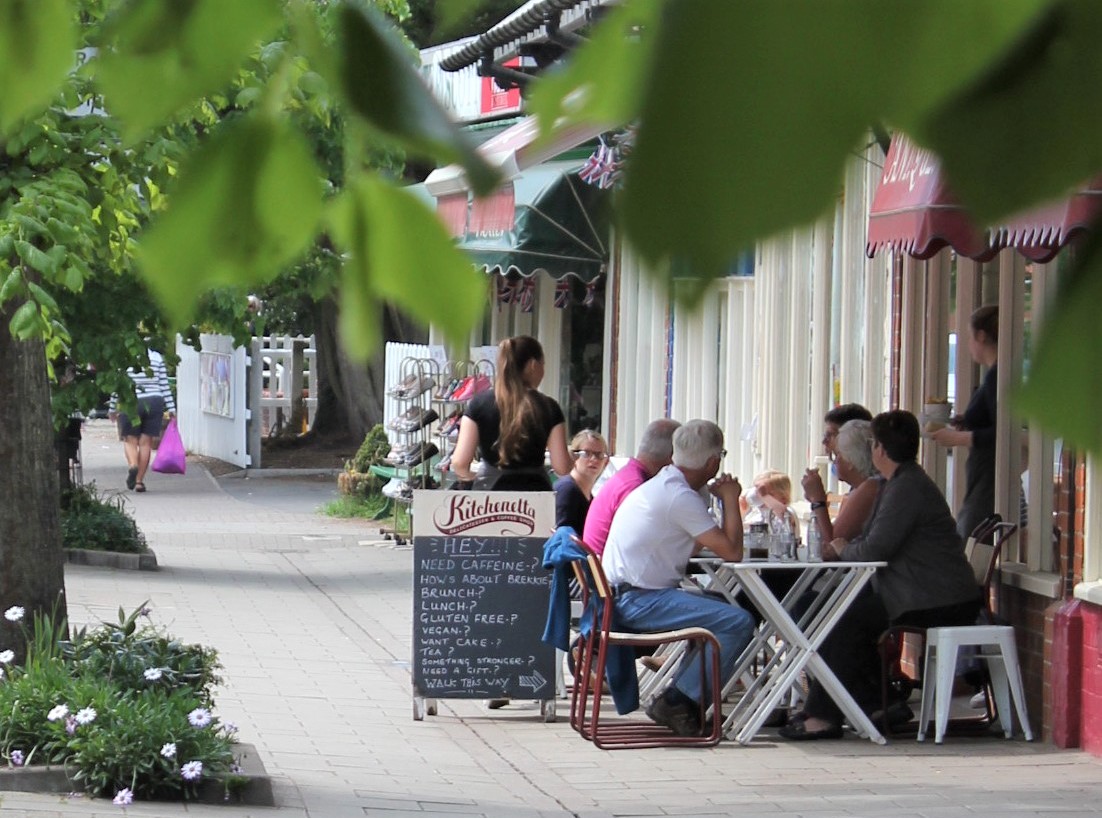 The farm is a great base for walks or cycle routes that take in beautiful views. We are lucky enough to have a great position at the top of a small hill and so you can see for miles around, hence the name Seven Spires. Local to us we have a pub in Walcott and also in the surrounding villages just a few minutes' drive away for local ales and delicious locally sourced food. If you love country walks then why not look up the Spires and Steeples Arts and Heritage Trail as Walcott makes a great base from which to cover these routes. We have details of all the walks for you so don't forget to bring your walking boots.
When we're not riding or looking after the animals we love to spend time visiting Woodhall Spa or Lincoln and we have made recommendations for you of our favourite places to go for coffee, eat and shop. We have some little gems including gorgeous interiors stores, art galleries, theatre and of course the stunning Castle and Cathedral in Lincoln.
Coffee Bobbins
At the bottom of the steep hill, this is a pretty little coffee shop serving absolutely delicious afternoon teas.
28 The Strait, Lincoln LN2 1JD
Kitchenetta delicatessen and coffee shop
On the Broadway in Woodhal Spa is perfect for a great coffee with seating outside and they are also dog friendly.
4 The Broadway, Woodhall Spa LN10 6ST
The Book Fayre
Another of our favourite coffee spots in Woodhall Spa. They also have a lovely range of gifts as well and both new and second hand books.
Matthew Temple House, The Broadway, Woodhall Spa, Lincolnshire, LN10 6ST
Bells' Tea and Coffee House
At the top of the steep hill, close to the Castle and the Cathedral, this is our favourite place to enjoy a traditional cooked breakfast, made with local produce and they are always really friendly.
38-39 Steep Hill, Lincoln LN2 1LU
The Jews House
Exceptional food in one of the oldest buildings in Lincoln, on the beautiful steep hill. Perfect for a special occasion but booking in advance is essential.
15 The Strait, Lincoln, LN2 1JD
Hare and Hounds
Great food and a lovely country pub atmosphere for either lunch or dinner. The Manor Stables craft centre next door is also worth a visit.
The Green, Fulbeck, Grantham NG32 3JJ
The Plough
A beautiful new gastro pub opened in 2017, very popular locally, serving afternoon teas, Sunday lunch and a la carte.
North Kyme, Lincoln LN4 4DJ
India Village
This is a great Indian restaurant, recently refurbished and delicious food, popular locally so always book in advance.
15 The Broadway, Woodhall Spa LN10 6ST
Zytun Grill
Another great Indian restaurant, we love this one for takeaways.
13 High St, Metheringham, Lincoln LN4 3DZ
Abbey Parks Farm Shop
Located on the A15 at East Heckington, the tea rooms serve delicious food, there is a lovely farm shop selling produce and gifts as well as the Mountains Sausage butchers.
Parks Farm, East Heckington, Boston PE20 3QG
Kinema in the Woods
This is such a unique cinema experience, not to be missed and really popular locally. The Kinema is believed to be the only full-time cinema in the UK still using rear projection. There is even an organ playing during the intervals.
Coronation Rd, Woodhall Spa LN10 6QD